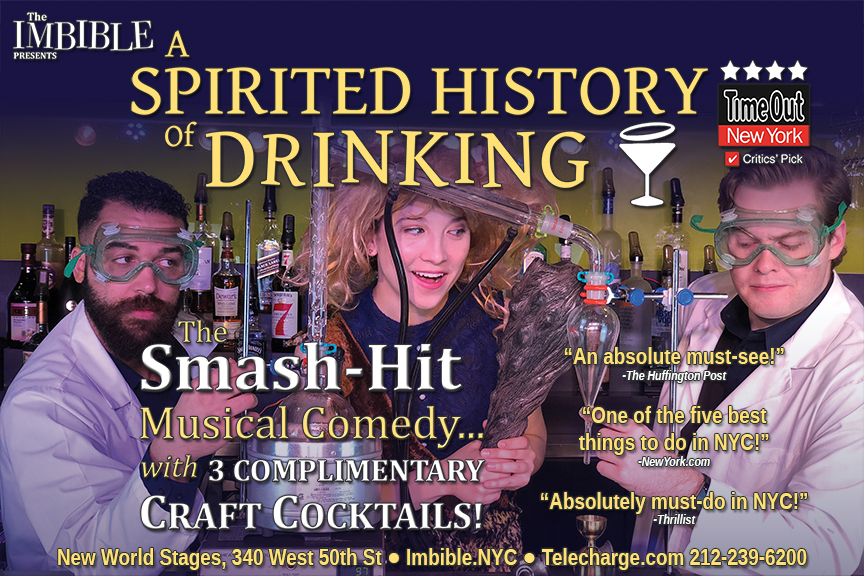 TICKETS INCLUDE 3 COMPLIMENTARY CRAFT COCKTAILS!
Sign up to receive Pre-Sale Discounts and ticket notifications!

"Absolutely must-do in NYC!"
THEATRE FOR THE THIRSTY.
Hailed as "remarkably compelling" by Time Out New York and consistently rated 5 stars by audiences as one of the best Off-Broadway shows on sites like Google, TripAdvisor, and Yelp, A SPIRITED HISTORY OF DRINKING sweeps you along a 10,000-year journey through history and across the globe, accompanied by three complimentary craft cocktails and world-class a cappella music! Now entering its sixth year as one of the longest-running Off-Broadway shows of all time, this groundbreaking production pours through the history and science behind cocktails and spirits, traces their economic and political impact on our cultural development, conducts live demonstrations of brewing and distillation, and of course keeps you laughing throughout the night!
"One of the five best things to do in New York City!"
Presented in its entirety in a bar, A SPIRITED HISTORY OF DRINKING will treat you to a completely original and thoroughly enjoyable evening of immersive Off-Broadway theater utterly unlike anything you've ever experienced! Guests leave educated, entertained, and buzzing with spirit. A limited number of Premium Tickets are available for each performance that include a Champagne Cocktail as a fourth drink and seating at the bar.
No late seating. Selected drinks are part of the performance, so we cannot make substitutions. You must be 21 or over and show proper ID at the door to attend.
★★★★★
"This show was so much fun! History, comedy, and music, oh my! But seriously, they got me to like an IPA and a gin based drink so huge kudos to them. Plus, they were hilarious and sounded beautiful together."
Melissa, Google Local Guide
"An absolute must-see!"
The Huffington Post